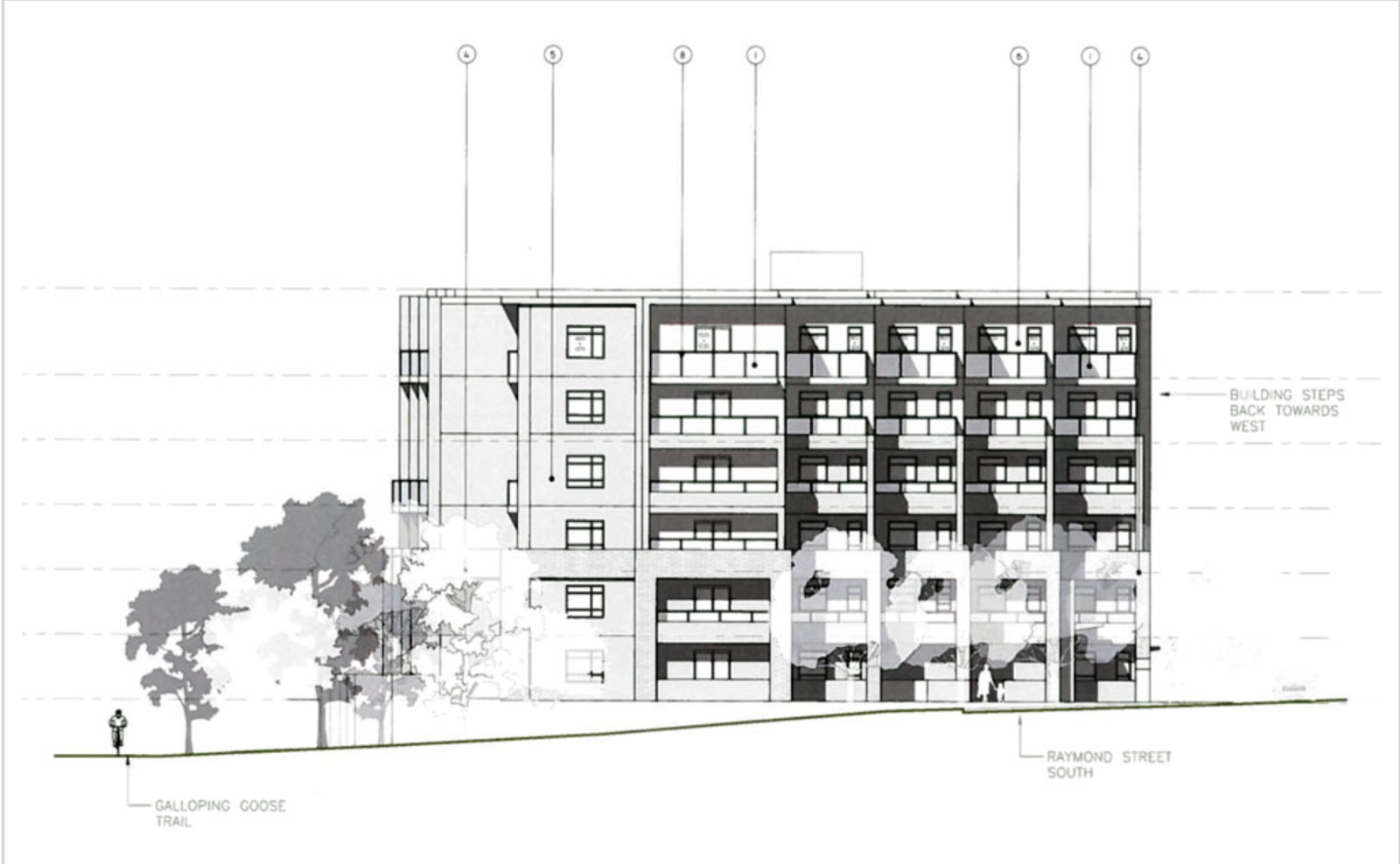 Big changes are coming to the crossroads of Tillicum Road and the TransCanada Highway at the nexus of Saanich's Carey, Tillicum and Saanich Coreneighbourhoods.
Abstract Developments has applied to the district to build a
six-storey
condominium complex
on the northwest corner of the busy intersection atthe terminus of Raymond Street South, a quiet residential corridor thatparallels Tillicum Road between the Trans Canada Highway and Carey Road.Comprised of 53 residences with an underground parking component, thebuilding will rise as the tallest structure overlooking the intersection andfollow in the footsteps of a
three-storey office building
at 3645 Tillicum Roadcompleted in 2016.
With plans submitted to the district, approvals are anticipated by late 2019 orby early 2020, with construction to follow later that year or by early 2021.The east elevation of 3656 Raymond Street, a six-storey, 53-unit condominiumproposed by Abstract Developments for the northwest corner of the Tillicum Roadand Trans Canada Highway intersection. The Galloping Goose Reginal Trail, whichparallels the project along its south façade, is depicted on the left. ? AbstractDevelopments
The building's location at the foot of the Galloping Goose Regional Trail,which travels along the Trans Canada Highway between Saanich Road to thesouth and the Old Island Highway to the north, will appeal to residents insearch of alternative transportation options and a direct cycling or walkingartery to downtown Victoria or the Westshore. Future rapid bus servicesalong the highway – which are entering their first phase with the constructionof a dedicated northbound transit lane and a southbound transit lane inplanning – will provide residents with transit-based transportation optionsconnecting the region.
Abstract Developments is one of the Capital Region's most prolific real-estatedevelopment firms with multiple projects currently under construction,including the up-market
Bellewood Park
residential community rising alongthe upper Fort Street corridor near downtown Victoria, and
Fifteen88
, anentry-level condominium offering underway on North Dairy Road acrossfrom Hillside Shopping Centre. C
© Copyright 2019 by Citified.ca. All rights reserved.