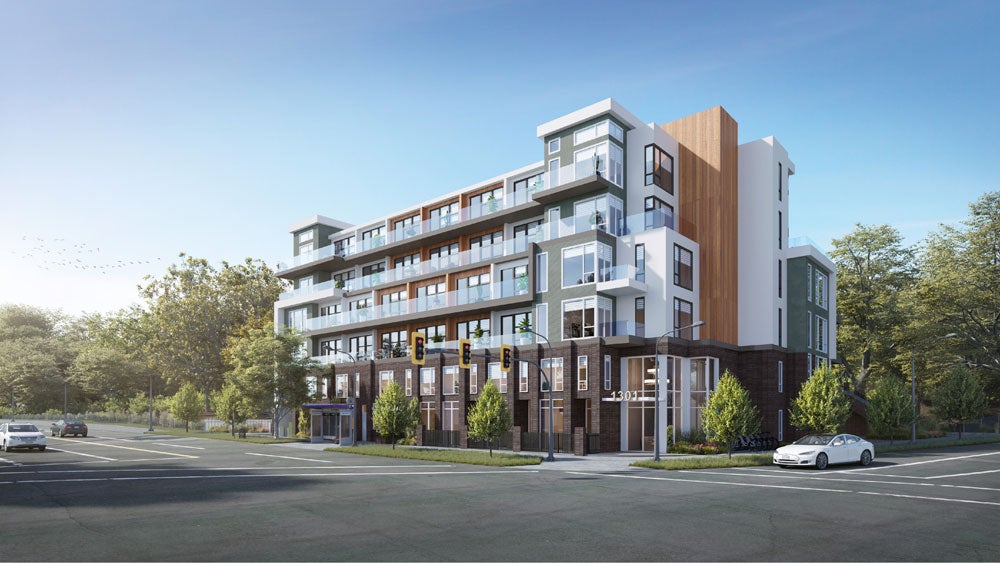 A year following the unveiling of a 46-unit rental complex at Cook Street and Hillside Avenue, proponent NVision Properties is shifting gears to pursue a BC Housing-backed condominium project instead.
As the sister company of market housing development firm Abstract Developments, NVision Properties' primary focus is on the delivery of rental housing, and while its six-storey rental proposal at 1301 Hillside Avenue is no longer the plan for the site, the firm will proceed with the condominium's approvals process.
Comprised of studio, one-bedroom and two-bedroom suites, NVision's original proposal was targeted at a mix of income levels and post-secondary students studying at UVic and Camosun's Lansdowne campus.

At a recent community meeting with the Oaklands neighbourhood association, the proponent identified that plans had changed to a 50-unit condominium featuring as many as 16 affordable homes that could be made possible through a partnership with BC Housing. The project will also feature two live-work residences permitted to engage in commercial activities on-site, and a 24-stall parkade.
The below-market component is planned to encompass over 30% of the project's homes, making it a strong candidate for support at the council table considering recent initiatives passed by elected officials seeking more provisions for affordable housing.

BC Housing's involvement in local condominium projects stems back to Chard Development's Vivid at the Yates project, a 135-unit, 20-storey tower now rising along the 800-block of Johnson Street, that is comprised entirely of affordable ownership residences.
Sold-out as of last year, Vivid introduced the concept of a BC Housing-supported ownership program to Victoria. As a result of its success, several developers have focused their efforts on leveraging similar opportunities, including another push from Chard Development where an upcoming three-building project, known as Yates Street Plaza, includes 80-units of affordable ownership homes proposed for Johnson Street at Cook Street.
Mike Geric Construction and Aryze Developments are also pursuing affordable ownership suites at their Speed Avenue project currently moving through the approvals stage in Victoria's Burnside-Gorge neighbourhood. The mass timber-built complex will rise in the form of a 12-storey highrise tower and a six-storey lowrise with a portion of units in the lowrise earmarked for a BC Housing program.
Together with NVision's transition at 1301 Hillside Avenue from a rental to a condo, at least four local projects, including Vivid, are helping increase access to affordable homeownership opportunities in lieu of a traditional focus by the industry on affordable rental suites.

Access to affordable homeownership opportunities has been largely considered an overlooked aspect to the housing affordability equation facing Canadian regions with strong real-estate markets.

NVision's involvement in the region's rental housing market includes Verve, a 95-unit purpose-built rental complex now leasing suites on Boleskine Road at Whittier Avenue, while several proposals (which include projects eyed for the 1000-block of Fort Street in Victoria and the 3900-block of McKenzie Avenue in Saanich) are making their way through the municipal approvals process. C
Receive Citified's timely real-estate news straight to your inbox. Sign up for our newsletter.
© Copyright 2019 by Citified.ca. All rights reserved.