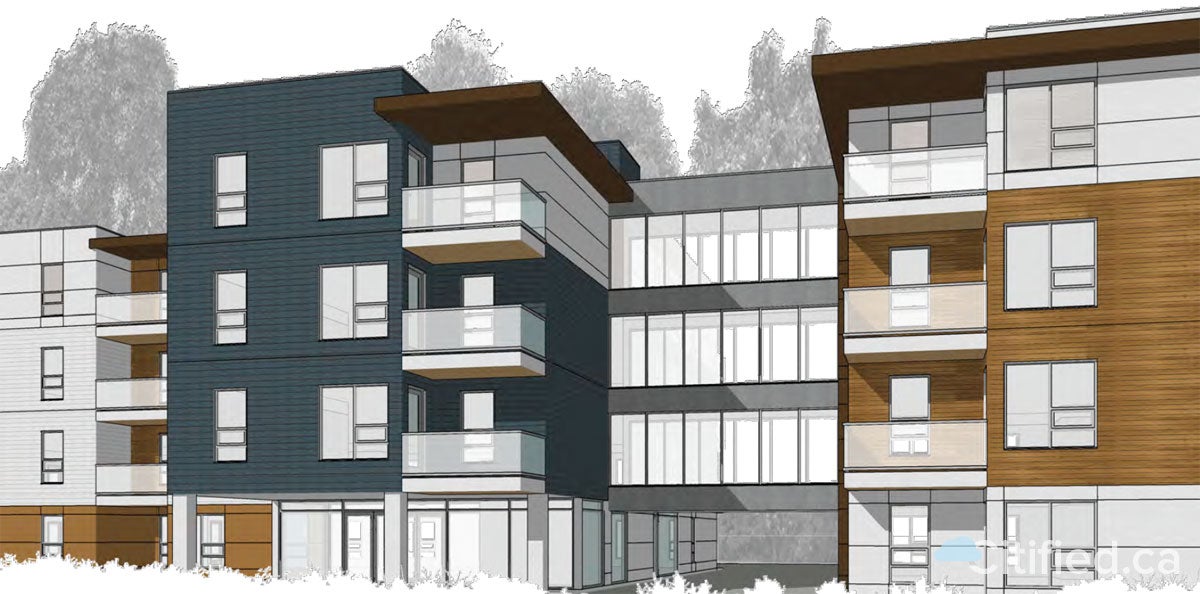 The Capital Region Housing Corporation (CRHC) has unveiled plans to replace a 1980s-vintage affordable housing complex in Victoria's James Bay neighbourhood with modernized rental suites.

The trio of three and two-storey Michigan Square buildings, spanning between 310 and 338 Michigan Street, are comprised of 62 residences in a mix of traditional apartment units and walk-ups.

According to documentation supplied to the City of Victoria, moisture issues affecting Michigan Square's ground floor residences and an underground parking component have necessitated redevelopment of the property in lieu of rehabilitation of the existing buildings.

"Over the years, the building has encountered water penetration issues, especially on the ground level units," a statement from the CRHC read. "This has rotted a number of ground floor joists between the existing buildings and parkade suspended slab."

Rising to four-storeys, the new-build has been envisioned as comprising of two wings connected by a multi-storey skywalk above a breezeway that will lead to the rear of the property and connect to an existing heritage home with attached townhouses (fronting onto Superior Street), which will be retained and upgraded. The architectural firm is Victoria-based de Hoog Kierulf Architects.

97 residences, with a mix of studio, one, two and three-bedroom layouts spanning between roughly 500 and 1,000 square feet will be built within the two four-storey buildings while nine residences will be upgraded at the rear of the property.

The undertaking falls within the Capital Region District's 2019-2022 corporate plan that has identified affordable housing throughout the south Island as a top priority. This project will introduce additional housing capacity to Victoria's core with a rent-geared-to-income rental rate model.

Existing tenants will be relocated to alternate housing sites overseen by local housing providers while receiving the first opportunity to return to the newly-built project upon completion.

With the project's municipal planning in its infancy, demolition of the existing buildings and site preparation are not anticipated until 2020 at the earliest, with construction extending approximately 18 to 24 months thereafter. C

© Copyright 2019 by Citified.ca. All rights reserved.