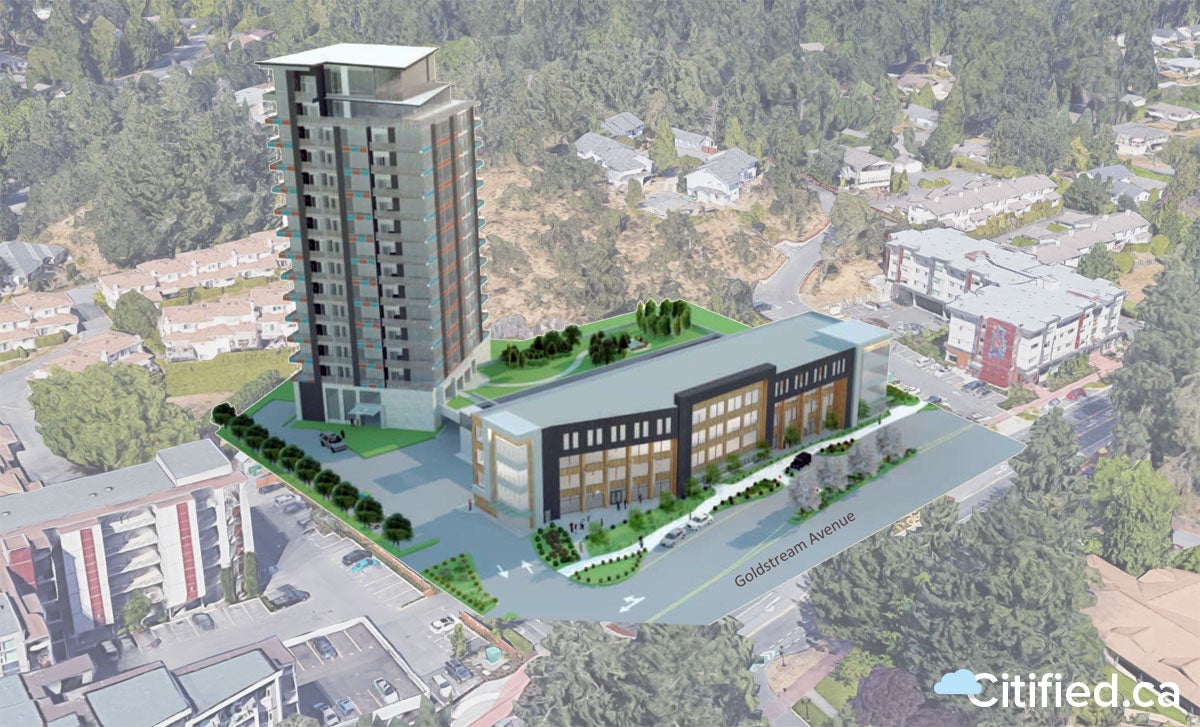 Langford's St. Anthony's Professional Centre, home to a walk-in medical clinic and health-related services along the 500-block of Goldstream Avenue, could become home to the tallest building on Victoria's Westshore.
St. Anthony's Property Ltd. has submitted a proposal to the City of Langford seeking approvals to build a four-storey mixed-use retail and office complex with health-related tenants at 582 Goldstream Avenue. The building will be constructed along the property line fronting Goldstream Avenue while the existing three-storey building will remain open and its services available to the public.
pon completion of the commercial building, the proponent plans to move tenants to the new-build and demolish the three-storey building. Partially in its place and occupying the northwest corner of the site will stand a 15-storey residential tower comprised of approximately 130 residences in one and two-bedroom configurations.
Parking will be in the form of 200 stalls for the medical building and 164 for the residential tower. Should the applicant seek permission to include three-bedroom or larger units in its mix of housing types, the parking ratio will be amended for additional vehicle capacity.
Langford's zoning currently permits buildings rising to a maximum of 12-storeys, although should council approve the plan as envisioned, the maximum height may be raised to 15-storeys.
St. Anthony Property's proposal follows a recent pitch to build a trio of 12-storey residential towers along Peatt Road at Goldstream Avenue. DBS Building Services is handling the municipal planning component. And recently completed was Danbrook One, a 10-storey rental complex on Claude Road just north of Goldstream Avenue in Langford's downtown core. It stands as the tallest building in Langford's core, although an 11-storey condominium atop Bear Mountain currently holds the title as the tallest building in Greater Victoria outside of the city centre.
© Copyright 2019 by Citified.ca. All rights reserved.