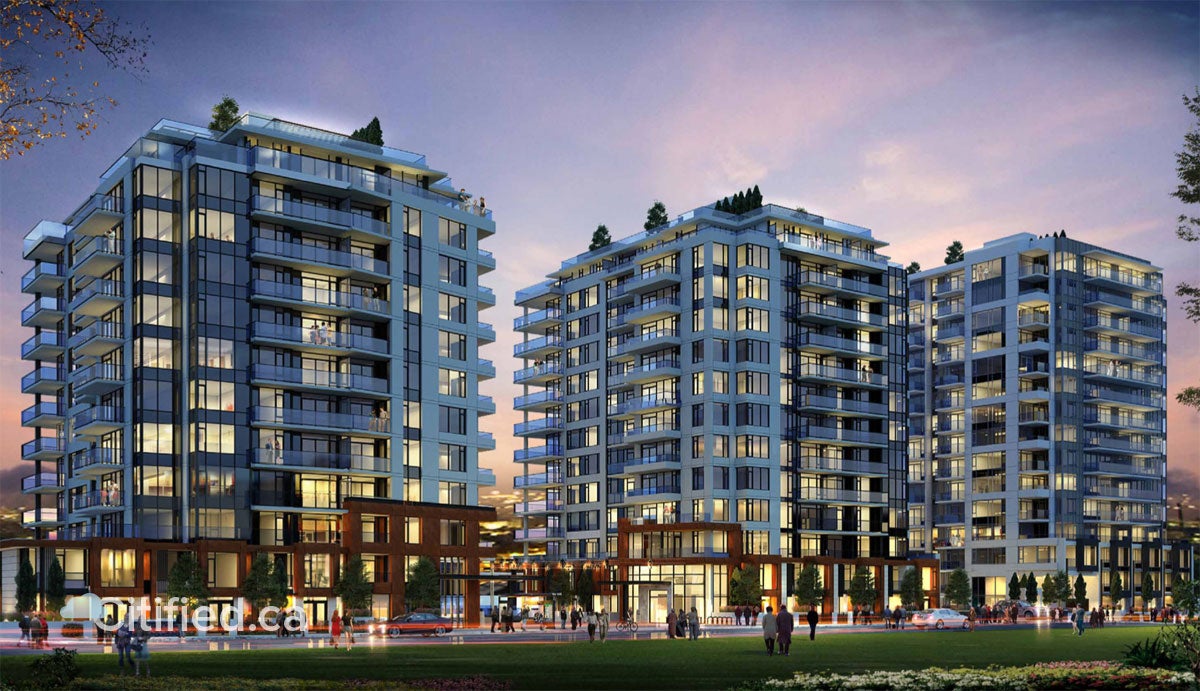 Construction at Vic West's Dockside Green masterplanned community will be re-ignited next year with a trio of residential towers, Citified has learned.
Burnaby-based Bosa Development has unveiled plans to erect a 13-storey, 106-suite condominium tower adjacent to Dockside Green's existing mid-rise towers along Tyee Road. To its south, a 14-storey, 113-suite condominium tower will rise, and adjacent to it a 16-storey, 150-residence purpose-built rental complex will complete the first phase of new construction under Bosa's leadership.
The buildings will share a nearly 400-stall underground parking component while space for just under 500 bicycles will be provided on-site. 40-short-term bicycle stalls will also be available for visitors.

Condominium residences in towers one and two will range from studio layouts to three-bedroom homes, while rental apartments will max out with two-bedroom floorplans in tower three.

The proposal is currently making its way through the City of Victoria's municipal planning process.

Bordered by the Bay Street Bridge and Esquimalt, Tyee and Harbour roads, Dockside Green was once touted as the 'greenest' development in North America and received accolades from across the world for its environmentally-forward architectural designs, eco-friendly materials and an on-site sewage treatment plant.
However, build-out of the 1,500 resident community was halted following the market crash of 2008 which forced then partners VanCity Credit Union and Windmill Developments to postpone the future phases of what was and still remains the largest development undertaking in the City of Victoria.

Nearly a decade on VanCity sold Dockside Green's undeveloped land to Bosa Development (not to be confused with Bosa Properties). The deal, first reported on by Citified in the summer of 2017, closed later that year with a transaction value of $50 million.

Although several parcels at Dockside Green have seen limited construction activity since the completion of the last phase of condominiums in 2009 – namely a low-rise office building and two three-storey affordable rental apartments – the project's remaining highrise residential towers, office spaces, public plazas and amenity contributions have remained all but a vision. A planned Merridale Cidery & Distillery, which was initially expected to open by mid-2019, also remains in a holding pattern (albeit under the direction of third party proponents unaffiliated with VanCity or Bosa Development).

With Bosa now at the helm, its overtaking of the project has been largely seen as an injection of life into a concept that had lost its way. With decades of experience and solid financial backing, the company is expected to reignite construction activity by 2020 with the first of a series of residential phases that will eventually culminate in 1,200-units of housing.

A presentation centre near the intersection of Tyee Road and Harbour Road is currently under construction adjacent to the Upper Harbour Place office buildings. 

© Copyright 2019 by 
Citified.ca
. All rights reserved.