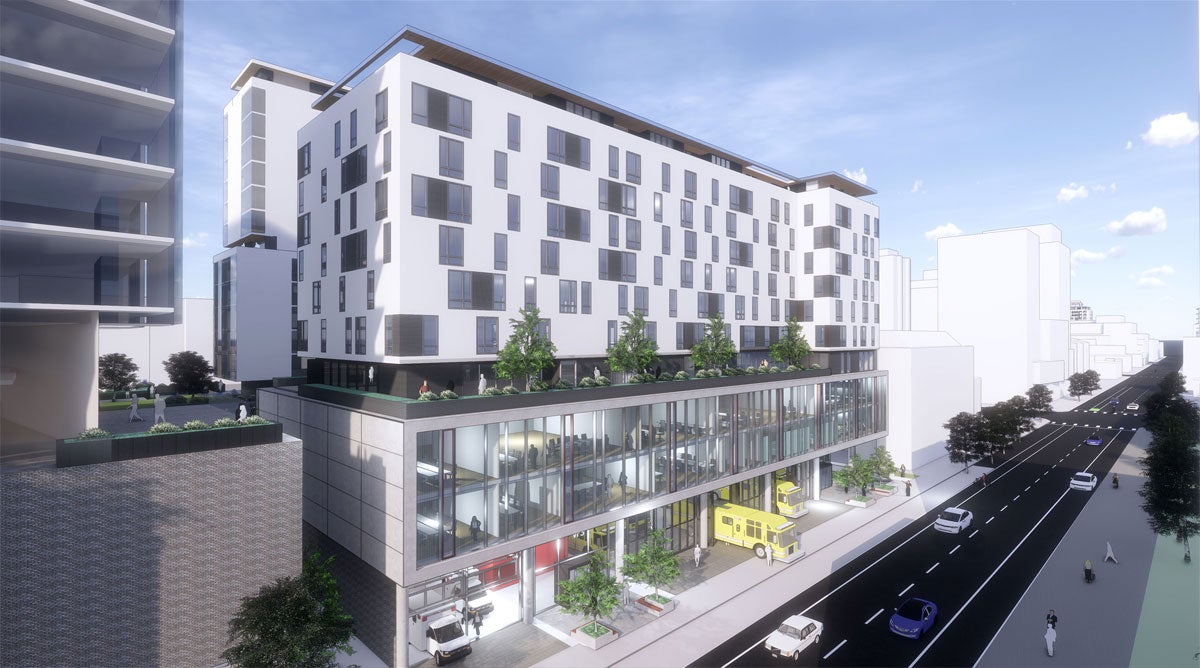 Significant progress has been made on the rezoning and development permit applications that includes a relocation of Victoria's No. 1 fire hall to a state-of-the-art emergency services facility and the creation of 130 affordable rental homes.

Identified as an infrastructure investment priority a decade ago, the seismically vulnerable Yates Street complex, which serves as the City of Victoria's largest fire station, is on-track for replacement as part of an innovative mixed-use proposal by Victoria-based developer Jawl Residential on behalf of Dalmatian Developments.

This Thursday Victoria councillors will have their first opportunity to review significant updates to applications that were approved to move to a public hearing at a February Committee of the Whole meeting. Council tasked staff with working to meet a series of conditions prior to the public hearing, including housing agreements to secure 130 proposed affordable rental homes on title, a phasing plan for the orderly and timely delivery of amenities, and statutory rights-of-way for public spaces on the property including a large public plaza and increased perimeter setbacks.

"We have been working toward the transition of this property from its current uses into a mixed-use community for more than a decade and we're extremely proud of the proposal that is going before council this week," said Dave Jawl, director of Jawl Residential and Dalmatian Developments. "Since council last heard about this application, our below-market sale of an affordable rental building to Pacifica Housing has received final approval from BC Housing and we have worked closely with city staff to create an updated package that I think truly shows our commitment to delivering an innovative project that responds to the City's most pressing needs - affordable housing, improved public safety and welcoming public spaces in the downtown."

At the heart of Jawl's proposal is a 12-storey mixed-use affordable rental tower comprised of 130 residences across eight levels, a fire hall and ambulance station on the ground floor, a second storey shared between an emergency operations centre and crew quarters, and office space on the third floor. The building also includes two levels of underground parking for residents, the fire hall and the public.
As part of a partnership with Pacifica Housing and BC Housing, the project's affordable residential component will be comprised of studio, one, two and three-bedroom apartments with 20% of suites targeted at households earning a combined annual income of $15,000 to $26,400, 50% targeted at combined incomes of $26,400 to $75,500, and 30% at households with $42,500 to $107,000 in annual earnings.

Pacifica Housing will own and operate the 130 very low-to-moderate income homes, which will add much needed long-term and secure affordable rentals to Victoria's downtown core where such housing inventory has remained elusive as the city centre's real-estate valuations continue to rise. The homes will also support a range of household sizes and needs, including seven layouts catered to individuals with physical disabilities.

The project and its future phases are planned for what is currently the Pacific Mazda automotive dealership bordered by the 1000-blocks of Johnson and Yates streets and the 1300-block of Cook Street.
Spanning 1.8-acres, the property's redevelopment into a mix of uses represents a transition away from large-scaled automotive operations in the downtown core, a change Jawl believes is key to the health and vitality of downtown Victoria and a reflection of societal attitudes towards the repurposing of the urban realm.

"Replacing a large surface parking lot and automotive dealership with mixed-use residential and commercial spaces is a symbol of our changing views on the growth of our city and transportation choices," Jawl says. "We have voluntarily pursued the largest purpose-built affordable rental building in downtown Victoria's history in order to kickstart this master-planned mixed-use community. In addition to the obvious benefits that a new fire hall and affordable housing will provide to the region, we're incredibly excited to be given the opportunity to move forward with an application that delivers so much in its first phase."

Unlike traditional multi-phased development efforts, Jawl's concept for the project (currently dubbed Johnson|Cook|Yates) will front-load a series of significant amenity contributions in the first phase, yielding a departure from the norm of long-term build-outs that typically stack amenities on a phase-by-phase basis. And Jawl's construction oversight of the new fire hall means the City of Victoria will effectively de-risk its investment from cost overruns and construction delays by handing the responsibility to a seasoned developer for a guaranteed $33.7 million price.

With council's blessing, the concept will proceed to a public hearing some time in the fall with construction on the first phase proceeding by mid-2020. Completion is earmarked for 2023.

As part of the overall project plan for the Pacific Mazda property, proposed building heights for phases two, three and four of 14 to 17-storeys will reflect the existing built form in the immediate vicinity while adding much needed housing density and commercial units to the downtown core. And as part of a comprehensive public realm component, Jawl confirms that a large public plaza fronting onto Yates Street will be incorporated into the layout through a public design charrette process.

"We have responded to community feedback from the Downtown Residents Association regarding green space downtown with the provision of dedicated public open space that will be designed in consultation with the community and accessible 24/7. We've also increased property setbacks to create welcoming public spaces."

The overarching vision aside, Jawl says his team's immediate priority is to deliver the first phase with its affordable rental housing on time and on budget. Subsequent phases will include a diverse mix of 400-plus new homes and a variety of retail, commercial and public spaces. More than 25% of all homes in the community will be affordable rentals.

"Our commitment to the Johnson|Cook|Yates undertaking starts with delivering on our amenity obligations and 130 truly affordable homes in partnership with Pacifica Housing and BC Housing," Jawl said. "Once complete, we will begin the process of reclaiming a large surface parking lot and transforming a high-profile, underutilized city block into a landmark residential and commercial community."

An effort to relocate Victoria's No. 1 firehall from its long-time location at 1234 Yates Street has been underway since 2009. Citing seismic concerns of the mid-century building, the City of Victoria pursued a project procurement process in 2015 that sought bids from multiple organizations proposing redevelopment of the firehall property or relocation of the firehall site. Dalmatian Development's Johnson|Cook|Yates proposal was selected in 2016 as the favoured bid. C


© Copyright 2019 by Citified.ca. All rights reserved.