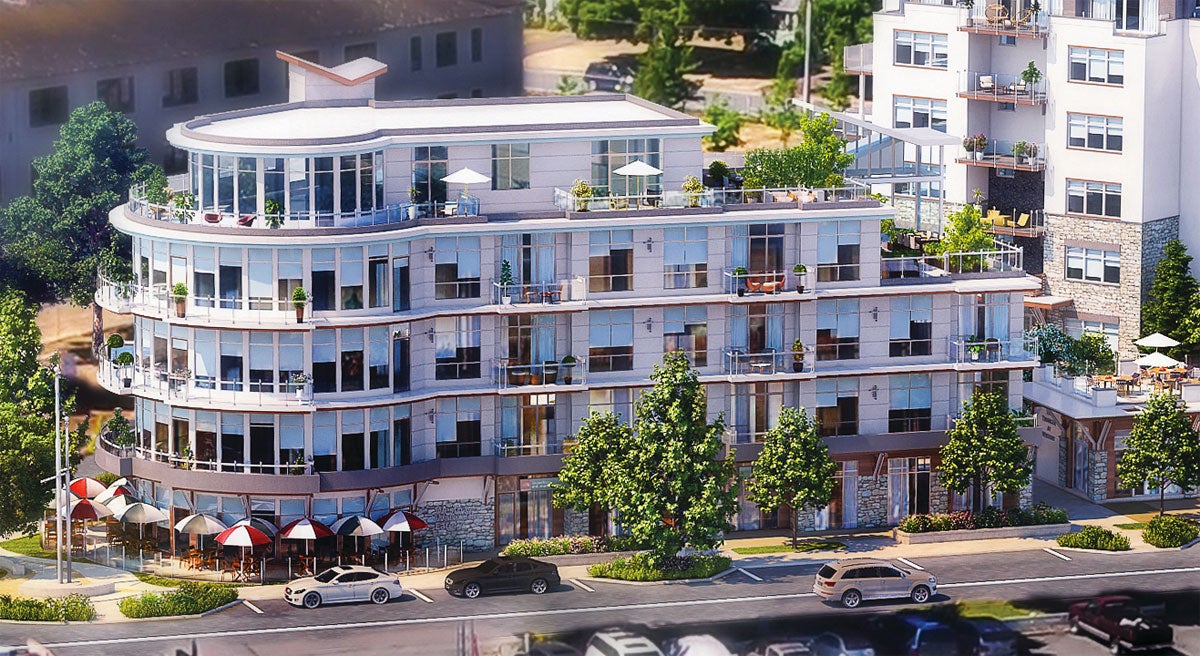 One of the Capital Region's most prestigious condominium offerings is scheduled for its unveiling this weekend at Esquimalt's Westbay Quay on the western shores of the Inner Harbour.

Sapphire at Westbay Quay, the second and final phase of the up-market Westbay Quay development slated for Head and Lyall streets in Esquimalt, will launch with a limited collection ultra-luxury oceanside residences valued into the millions of dollars.

"Sapphire is one of the most luxurious and prestigious new-build real-estate offerings on Vancouver Island," said David Price, partner at Victoria development firm Tenfold Projects, which spearheaded the nearby Swallows Landing community that several years prior brought international acclaim to the shores of Esquimalt for its luxury highrise homes and sweeping views of Victoria's Inner Harbour waterfront.

"Swallows Landing is among a handful of projects on Vancouver Island that fall into the category of true high-end living, and its sought after estates are the inspiration for Sapphire's gorgeous offerings positioned to take in the incredible views of the harbour, downtown Victoria and the strait."

Comprised of only six suites, the five-storey Sapphire features two full-floor layouts in the form of an 1,862 square foot top floor penthouse – which recently sold ahead of the launch for nearly $3 million – and a 3,500 square foot sub-penthouse spread across the fourth floor with pricing just shy of $4.5 million.

Levels two and three are split between a duo of two-bedroom homes sized from 1,755 to 2,217 square feet with a starting price of $1.84 million.

Richly appointed, Sapphire's finishings and craftsmanship will appeal to even the most discerning buyers with $125 per square foot of custom interior design included in the price and includes work beyond an ample base suite demising provision.

"Sapphire's purchasers will have the opportunity to choose the finishing of nearly every aspect of their home, from the design of the bathrooms, to the appliances, to lighting and flooring," Price says. "For a home with nearly 2,000 square feet of space, the finishing package, with guidance and assistance from interior designer Anne Greenhough, will provide $250,000 of in-suite customization to meet the specific tastes of each client."

Parking will be in the form of an underground parkade tied to the first phase of Westbay Quay, with each of Sapphire's residences allocated two stalls.

The building's ground floor is planned to contain a bistro or café component, while additional commercial spaces in the Lapis building, the two-storey component of Westbay Quay, will feature live-work residences and retail units that are earmarked to contain a restaurant space and local businesses.

With excavation nearing completion at Westbay Quay, Price's partner Max Tomaszewski says construction is on schedule to begin by early 2020 with move-ins expected in 2022.

"Ground preparations are proceeding on schedule and we anticipate blasting work to culminate by year's end," Tomaszewski said. "As we progress into the New Year construction work will begin, and crews finalizing work on our Wade project in downtown Victoria will begin to transition to the Westbay Quay development site."

Tenfold's second undertaking in Esquimalt follows the success of the twin tower Swallows Landing project and its adjacent townhome phase. The nearby Westbay Quay, with 73 one-bedroom, two-bedroom and live-work layouts, reached 50% sold-out status over the summer and has continued to generate strong interest among purchasers in search of waterfront living in proximity to downtown Victoria.

With current pricing from $410,000 at the six-storey Topaz building (the two-storey Lapis building is sold-out), Westbay Quay's available up-market pre-sales are uniquely positioned in their harbourfront setting with a seaside walkway from the development site into downtown Victoria, an adjacent full-service marina, nearby shops and cafés, and bus routes that connect the CFB Esquimalt navy base, the University of Victoria, Camosun College and downtown Victoria.

Meanwhile, work on Tenfold's Wade development on Johnson Street at Cook Street is progressing with completion eyed for the spring of 2020. The 102-unit mixed-use building sold-out in late 2017 and construction crews recently completed final concrete work on the low-rise project.

To learn more about Sapphire at Westbay Quay and remaining homes at Topaz at Westbay Quay, visit the presentation centre on Saturdays and Sundays between 1 and 4PM at 453 Head Street. Or to schedule a custom viewing, call 250-384-2771 to speak with a project representative.

© Copyright 2019 by Citified.ca. All rights reserved.