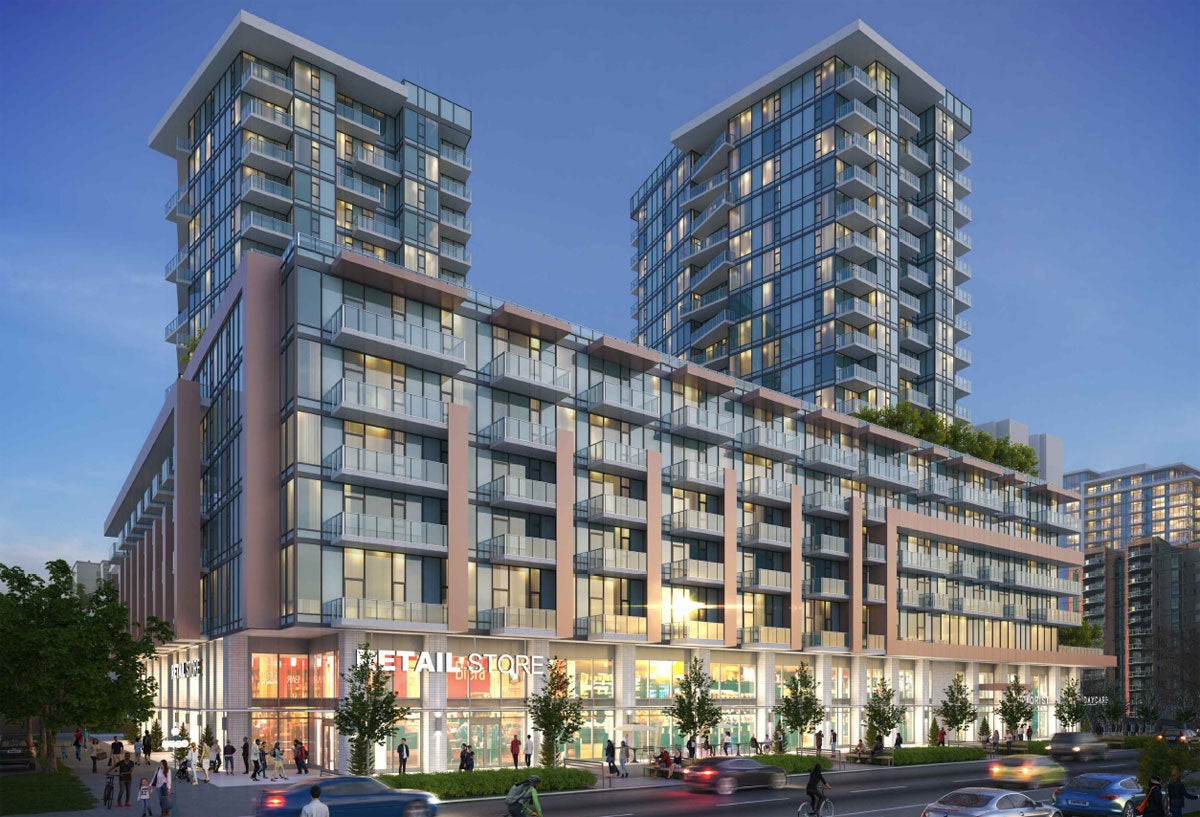 A rezoning application for the first phase of downtown Victoria's Harris Green Village redevelopment has been submitted to the City following public engagement and feedback sessions held last summer and fall.

Proponent Starlight Developments has unveiled a vision incorporating over 500 rental residences and a sizable ground floor retail component for a property between the 1000-blocks of View and Yates streets (at Cook Street) currently occupied by an automotive dealership.

The concept includes two residential towers, of 17 and 19-storeys, and a lowrise podium with staggered heights of up to six-storeys. The 17-storey building is depicted at the southeast corner of the property on View Street at Cook Street, while a staggered 19-storey counterpart fronts onto Yates Street at the northwest corner.

Plans call for a total of 510 residences in a variety of sizes and configurations – from studio to three-bedroom suites – and resident amenities that include a large landscaped courtyard, a rooftop socializing space, outdoor barbecue and dining areas, a kids area, a dog run, and an indoor lounge, gym, and fitness studio. Among the residential mix there will be nearly two dozen affordable units.

News of Starlight's decision to proceed with such a high-profile redevelopment has been widely regarded as a boost of confidence for Victoria's long-term outlook, in light of COVID-related challenges that have left the downtown core in a state of flux.
Starlight's Director of Development, says the company's decision to submit an application and move forward with the project is based on the historic resiliency of the B.C. Capital, and the post-2020 fundamentals he and his team believe are in place to aid in the south Island's economic recovery.

"The strength of Victoria from a socio-economic perspective, and the region's many qualities that continue to elevate it among Canadian cities, has underpinned our confidence that this is a great community in which to focus our efforts," Chemij said.

"We're certainly not the only community builder to feel this way, and when you take into account the multitude of factors at-play in Victoria, the long term future for this city appears to be on a positive path."

Downtown retailer Fadi Murr, who along with his brother operates the popular Gemi Hair salon on Cook Street at Johnson Street a block away from the proposal, has reviewed Starlight's application and thinks the concept will deliver just what the city needs.

"We're always happy to see developers pushing the envelope on height and density. If not downtown, where else should the density go? Cook Street Village? The waterfront?," Murr says.

"Now more than ever, we need a rapid influx of people living downtown, and with higher densities we'll see greater support for existing and new commercial spaces that, in turn, enhance the overall area by adding to downtown's vibrancy while drawing individuals from outlying communities."
Among the 510 proposed residences, a 23-unit affordable housing component is currently being fine-tuned with the City. Chemij says Starlight is committed to providing housing for a wide range of incomes, and in so doing help shift the rental vacancy rate away from historic lows that place upwards pressure on rental rates.
"The city centre has been struggling to move the needle on housing vacancy and affordability for years," Chemij said.
"But in order to bring about the necessary supply of rentals that outpace the rate of uptake and temper the cost of housing, we need to address the issue in a meaningful way through density, and eventually that will result in a cost equilibrium that locals will tell you is long overdue."
Starlight's vision for new housing is not limited to downtown Victoria, however. The company, which exclusively builds rental apartments and commercial spaces, has set its sights on a number of properties throughout the region as part of a broader commitment to delivering rental housing to one of the tightest rental markets in Canada.
Along with Harris Green Village, which will include a second phase between the 900-blocks of Yates and View streets, Starlight has acquired multiple properties in the urban core and on the West Shore that will, in time, include additional residential density.
"Victoria is on the radar in a national and international sense, with newcomers looking to this region as a desirable place to live, and the business community recognizing the benefits of multiple post-secondary institutions, the proximity to major centres like Vancouver and Seattle, and receptive local governments," Chemij says. "We're fortunate to be able to take advantage of multiple opportunities on the south Island, and look forward to participating in the Capital's post-COVID emergence in a meaningful way." C
© Copyright 2020 by Citified.ca. All rights reserved.