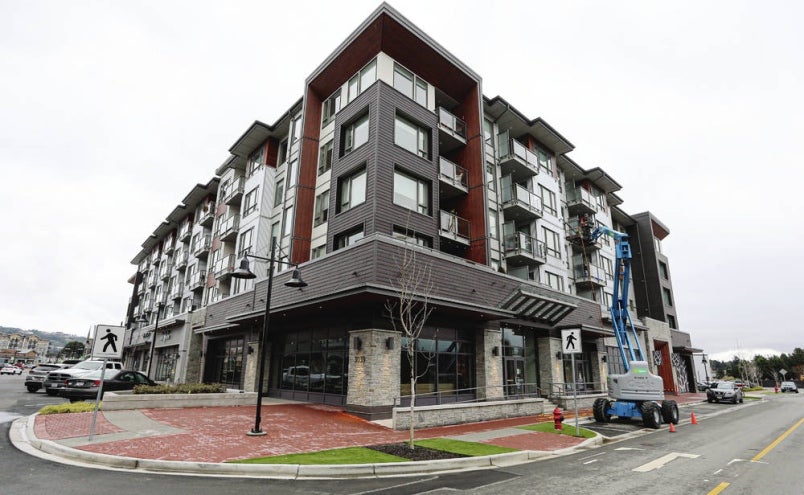 Despite the pandemic, there were dozens of major commercial real estate deals over the past year in Greater Victoria, worth hundreds of millions of dollars.
Langford, Colwood and View Royal continued to be hotbeds for development, while the provincial government was a major buyer in its efforts to house the homeless and provide affordable housing, according to commercial realtor Dustin Miller, who compiled a list of the year's top-10 transactions.
Miller, managing broker for 8X Real Estate, said he compiled the list based on the value of transactions and used data from builders, B.C. Land Titles, B.C. Assessment, mortgage and tax documents and other sources.
1. 945 Reunion Ave., Langford
Price: $60 million
Site area: Air Space Title
Improvements: 156 unit multi-family apartment building
Vendor: Ledcor Property Investments, Vancouver
Purchaser: Killam Apartment REIT, Halifax
The Crossing At Belmont is the rental component of Belmont Market, a 160,000-square-foot outdoor shopping centre with anchor Thrifty Foods. The rental units have condo-like amenities and there is a rent-to-own program for tenants to save down payments to purchase across the street at the Belmont Residences strata building.
2. 2861 Craigowan Rd., View Royal
Price: $54 million
Site area: 15.8 acres of peninsula, waterfront on all sides.
Improvements: 161 units
Vendor: Realstar Group, Toronto
Purchaser: Killam REIT, Halifax
The Christie Point Apartments is a unique property on its own peninsula in Portage Inlet The waterfront property has a ­variety of low-density ­buildings originally constructed in the 1960s. Improvements call for five two-storey apartment ­buildings and four two-storey townhouse buildings.
3. 1085 Goldstream Ave., ­Langford
Price: $52.050 million
Site area: 2.157 acres
Improvements: 166 units
Vendor: Molnar Group, Vancouver
Purchaser: Skyline Wealth, Guelph, Ont.
The Star on Goldstream is a luxury rental building at ­Goldstream Avenue and Leigh Road completed in 2019. The West Shore region has been a major growth driver in the investment marketplace.
4. The Capital Iron Lands, ­Victoria
Price: $46.25 million
Site area: 6.7 acres
Improvements: Seven parcels composed of parking, retail and office.
Vendor: The Greene family (Capital Iron founders)
Purchaser: Reliance Properties, Vancouver
The sales included six properties in Victoria's Old Town District — the Capital Iron building that runs from the foreshore, the two adjacent brick buildings, the Capital Iron Parking Lot at 1907 Store St., and the retail strip mall at 530 Chatham St. The property only contains 93,000 square feet of built leasable space, with the remainder being paved parking lots. Reliance CEO Jon Stovell has said he will work with the city in its goals for this north downtown area and plan for an Innovation District. Any project proposal will have a lengthy public consultation and municipal permitting approval process.
5. 1910 West Park Lane, View Royal
Price: $39.635 million
Site area: 2.3 acres
Improvements: 152 units
Vendor: 1138049 BC LTD Limona Properties – John Sercombe
Purchaser: Capital Regional Housing Corporation
Thetis Lake Apartments is a purpose-built rental development on the former Thetis Lake campground and trailer park with two six-storey buildings. The Capital Regional District is offering 118 of the 152 suites as affordable units, 34 units as provincial assistance units and 20 barrier-free accessible units.
6. 2251 Cadboro Bay Rd., ­Saanich
Price: $30.736 million
Site area: 3.9 acres
Improvements: 15,000-square-foot institutional health facility slated for demolition
Vendor: Island Health
Purchaser: Capital Regional Hospital District Corporation
The Oak Bay Lodge is a five-storey building constructed in 1972 and initially operated as a retirement community. In the early 1980s, it was converted to long-term care with 235 beds. The lodge closed in July when residents moved into a new 320-bed facility on Hillside Avenue. The property has been slated for demolition and a development proposal is expected in the new year for a public-use project.
7. 2850 Bryn Maur Rd., Langford
Price: $30.525 million
Site area: 0.541 acres
Improvements: 93 rental apartment units
Vendor: Bill Beadle constructed by DB Building Services, ­Victoria
Purchaser: Centurion Apartments REIT, Toronto
The Arc is a new construction rental apartment building at Bryn Maur Road and Hockley Ave. The six-storey building uses cross-laminated timber.
8. 3020 Blanshard St., Victoria
Price: $18.5 million
Site area: 120,721 square feet
Improvements: 151-room hotel
Vendor: Cornell Developments Ltd., Victoria
Purchaser: B.C. Housing The Comfort Inn & Suites was acquired in May by the province for use as shelter for 90 homeless campers. B.C. Housing partnered with Our Place to run the building.
9. 21 Gorge Rd. East, Victoria
Price: $15.77 million
Site Area: 30,247
Improvements: 52 rental units
Vendor: Greater Victoria Rental Development Society
Purchaser: Real Homes Management Corporation
The Loreen is a 2011-built affordable rental building along Gorge Road. The property is site of the former Capri Motel, which was demolished in 2009. It was originally co-owned by private developer Alanna Holroyd, Kaye Melliship and the Greater Victoria Housing Society. They have sold to another like-minded company, Real Homes Development/Real Homes Management Corp.
10. 1900 Douglas St., Victoria
Price: $14 million
Site Area: 60,005 square feet or 1.3 acres
Improvements: 75-room motel
Vendor: Paul's Restaurants Ltd., Victoria
Purchaser: B.C. Housing
Paul's Motor Inn was the ­second hotel acquisition in ­Victoria made by the province in response to the pandemic. It purchased the property in June for use as a homeless shelter. The long-term plan is to use the site for affordable housing.
© 2021 Copyright Times Colonist